---
---
Introduction
---
Target audience
Novice users
Intermediate users

Power users

System administrators

Support engineers

Application developers

Kernel developers
MultiMon is an advanced multifunctional system monitoring tool for Windows which displays detailed output of a wide range of activities in real-time.

The system monitor displays process and thread creation as well as binary image loading.
The file system monitor displays activity from the perspective of the file system. The registry monitor shows registry activity in real time.

MultiMon supports clipboard, keyboard and task activity monitoring as well.

The program allows you to export output to text files and sort output views on columns. Non-destructive include and exclude filters allow you to search monitor output for matching data. An optional combined view option allows you to display all activity in one single view.

All activities are recorded with lots of details, including a high-precision time stamp, process name and ID, thread ID, CPU ID, object handle, and window title.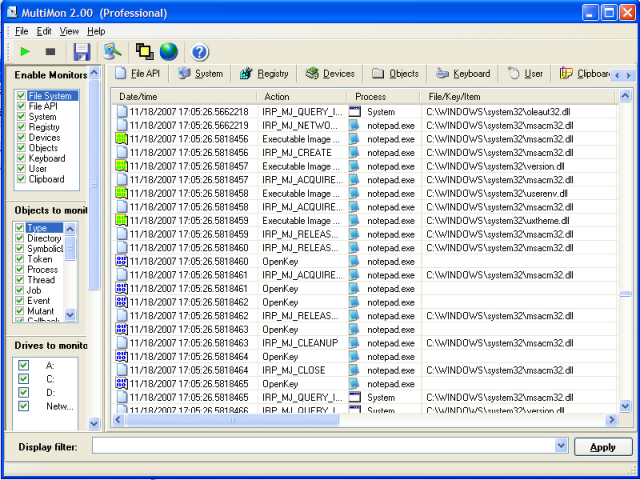 ---
Copyright © 1997-2023 Resplendence Software Projects. All rights reserved. Privacy Policy.
Page generated on 12/9/2023 1:26:33 PM. Last updated on 9/17/2019 2:09:47 PM.
---